2010年11月06日
Thinkit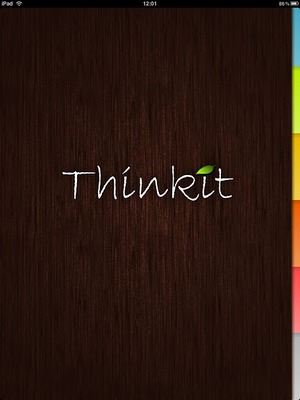 Thinkit
~思考の整理~
Thinkit(シンキット)は、考えたい人のアプリです。
考えるコトは楽しいコトです。人は楽しいから考えるのです。
そんな楽しいコトを他人に任せることは「Mottainai」ことです。
Thinkitは、自分の頭で考え、それを具体的に視覚化し、思考を整理することで、人に伝えるコトもできるアプリです。
【おもな機能はこちら】
Thinkitは、iPadの画面内に展開される仮想紙(最大サイズ:A2)上に、付箋や写真を貼り付け、更に仮想紙の上に描画するコトも可能にしたアプリです。
自由な思考を滞らせることのない、簡単でつかいやすい操作性を、iPadで実現しました。
付箋に考えや用件を「書き込む」、「並べる」、「つなげる」、「整理する」、そして背景の仮想紙に描画するという操作の中で、様々なヒントや新しい発想に出会うことができます。
<機能>
■リスト画面
マップの新規作成、コピー、削除、名称変更
仮想紙サイズ:A4、A3、四つ切り、A2
背景(jpg、PDF)の選択: iTunesからUSBケーブル経由での取込、カメラロールからの取込、内蔵テンプレート背景(約20種類)からの選択
■メイン画面
・付箋
付箋を任意に配置・移動・サイズ変更・コピー・削除
付箋内テキストの編集(フォントサイズ変更可)
付箋の色の変更可(6色)
付箋と付箋をつなげる
・写真
写真を取込み、任意に配置・移動・サイズ変更・削除
・背景仮想紙
仮想紙への描画(6色)
消しゴムツール(大・中・小)
・全体操作
虫めがねツールによる付箋の色指定での表示切替
作成したマップをカメラロールへ書き出し
■使用例
・内蔵テンプレート
思考の整理、ToDo、組織図、円グラフ、プロダクトポートフォリオ、黒板、フォーメーション図(サッカーetc)、シナリオチャート、カレンダー、方眼紙、etc
・付箋をつなげたり、移動させることによって思考をまとめる
・付箋の色による表示切替機能で、全く別の視点からの思考をサポート
・付箋による「手軽なメモ」
・付箋の色や、背景描画による「ToDo」
・背景に取り込んだ写真を活用し、部屋の模様替え、倉庫などの整理、作業工程の作成、人員配置などへの利用
・ブレーンストーミングやKJ法への活用
・コメント付きの画像を、カメラロールに保存できるので、仕事や友人にメールで送信できます
・お気に入りの背景画像で、お洒落なマップを演出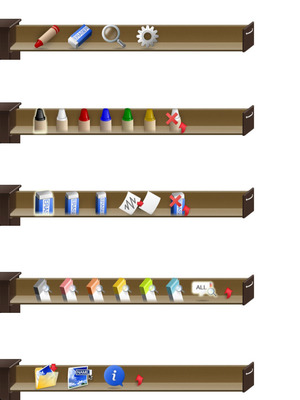 Thinkit
~help to organize your thoughts~
"Thinkit" is an application who like to think.
It is fun to think. People think because it is fun.
To let other people think such fun thing instead of you is very "Mottainai"
"Thinkit" will help you think by your own brain, support to visualize your thoughts concretely, organize your thoughts, and also makes you possible to share your visualized thoughts with others.
[What you can do using "Thinkit"]
By using "thinkit" , you can stick a label or a picture image on a huge(maximum A2 size) background. You can also draw on the background.
"Thinkit" will make your free thoughts going on and on, by easy operation using iPad.
By "writing","arranging","connecting" and "organizing" your thoughts using the label and the background, you can create new ideas, and you can catch new hints or ideas.
[function]
~List screen~
Create a new map, copy a map, delete a map, changing names of the map.
Background size: A4(210mm*297mm), A3(297mm*420mm), 254mm*306 mm size,A2(420mm*594mm)
Choose a background(jpg,PDF): Import images from iTunes on your computer by connecting your iPad with a USB cable, Import from camera roll, Choose from existing templates in your iPod (from about 20 types).
~main screen~
-label-
Place label (wherever you like on background), move label, resize label, copy label, delete label
Edit text of the label (Changing size of font)
Change label color(chose from 6 colors)
Connect labels by lines
-pictures(image pictures, photo pictures etc…-
Import picture, place picture, move picture, resize picture, delete picture
-background sheet-
Draw on the background(choose pen color from 6 colors)
Erase tool(big eraser, medium eraser, small eraser)
-total operation-
By picking the color using "magnifier tool", you are able to see only the label color which you like.
(ex. Pick yellow by "magnifier tool" → label color not yellow will be hidden from the background)
Execute your own map to camera roll
~usage example~
-existing templates in your iPod-
Template of "organizing thoughts", "To Do", "organization chart", "product portfolio", "black board", "formation chart(ex.soccer)", "scenario chart", "calendar", "grid sheet", etc…
-Organize your thoughts by moving labels, or. by connecting labels with lines.
-By switching view using the "magnifier tool", "Thinkit" will support your thinking process from a unique point.
-Use the label as a simple memo
-Help you making your "To Do" list by choosing the appropriate label color, or by writing down to the background.
-By using the picture image you import from the USB cable, you can remodel your room, clean up your warehouse, make a working process, or think of your staff assignment.
-Usage for brainstorming or KJ method.
-You are able to save graphics with comments(you wrote down) to the camera roll, so you can send it to your friends or you can use it in your work.
-Making a cool fashionable map by using your favorite picture image.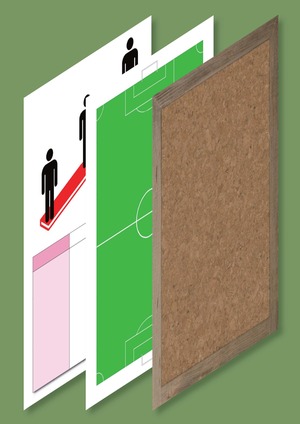 AppShopperにて紹介!!
http://appshopper.com/productivity/thinkit
iTunesプレビューにて紹介!!
http://itunes.apple.com/jp/app/thinkit/id404748226?mt=8
I App Phoneにて紹介!!
http://www.iappphone.com/apps/404748226/thinkit/
PadGadgetにて紹介!!
http://www.padgadget.com/ipad-app-details/404748226/7/2/1
WeLoveAppにて紹介!!
http://weloveapps.net/209149/Thinkit
iappにて紹介!!
http://iapp.com.tw/app.php?id=404748226
i-apps.frにて紹介!!
http://i-apps.fr/application+iphone+thinkit-53214
Speak iPadにて紹介!!
http://www.speakipad.com/ipad-apps/thinkit-productivity